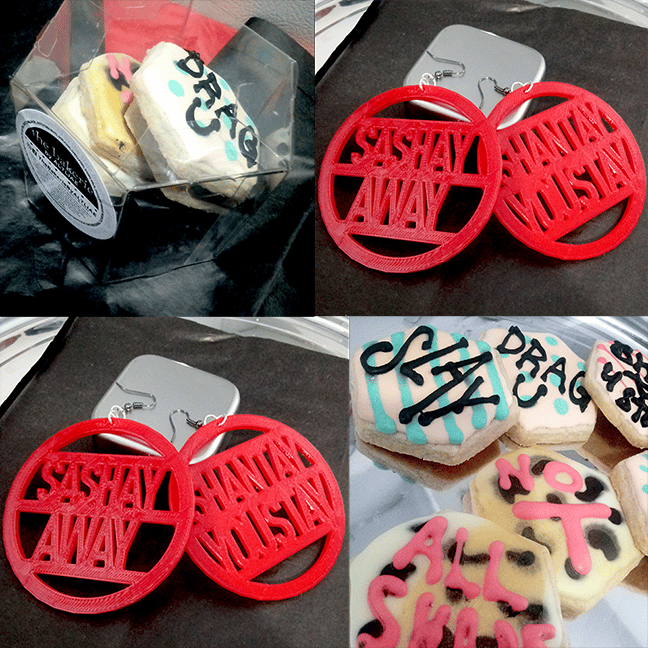 PINKSLIP Drag Race Season 12 Cookie Box
PINKSLIP is Indy's premiere queer entertainment group offering a trifecta of drag, improv, and comedy, and The Bakerie by ALTLiAE is a proud sponsor of PINKSLIP's Season 12 Drag Race Viewing Parties!
For this collab we used our 3-D printer to create boxes of delicious Gluten-Free Cutout Cookies with your favorite Drag Race sayings on them, PLUS a few special pairs of Drag-ready very Big, Very Bold - and Very Red! - hoop earrings for PINKSLIP to give away during the Viewing Parties that read SASHAY AWAY and SHANTAY YOU STAY!!
Each box contains 4 royal iced two-and-a-half-inch cookies that are Gluten-Free. The cookies are made to order in a kitchen that also processes other allergens, including gluten and ground and tree nuts, so see our FAQ for more production details!
Lucky Viewing Party attendees will be gifted cookie boxes or SASHAY/SHANTAY earrings throughout the season, so be sure to attend every Friday night during Season 12 from 8:00 pm – 9:00 pm at Greg's Indy, 231 E 16th Street, IN 46202 for a chance to win a door prize!
Want a pair of Very BIG and Very BOLD text- or name-themed hoop earrings of your own in Red, Black or a custom-dyed color? Text me at (317) 721-4824 to start the process to make it happen! Most orders placed by Tuesday midnight will be available for pick-up on Friday of that week's viewing party!